Attention Authors, Speakers, Marketers, and Entrepreneurs…
"When I Became a Local Celebrity Years Ago, My Clients Wanted to Learn How They Could Do the Same Thing – Are You Ready to Become a Local Celebrity?"
[And This Is Just The Beginning…I'll Teach You How To Become Known As The "Go-To" Person In Your Field!]
Read On To Find Out More About How You Can Easily Make This Happen…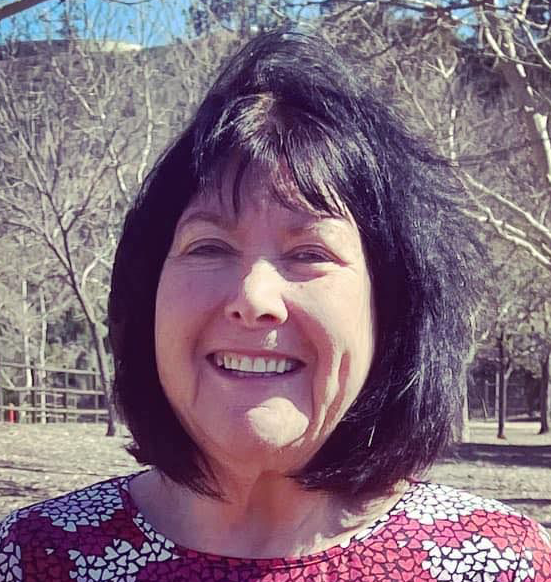 I'm Connie Ragen Green and I have been working exclusively online since 2006. When I was first getting started I became known in my local community as a result of the activities I was participating in. Very soon, without realizing what was happening, I had become a local celebrity.
As a result I have been able to grow my business in record time, even though more than ninety percent of what I continue to do is online. And when I want to get the word out about what I have coming up (like a new book, live event, or new online training course, my local celebrity status makes this even more doable.
Now I Want to Teach You How to Achieve the Same Results, Quickly and Easily…
Introducing: Become A Local Celebrity…



A Three Module Live Workshop Training
to Teach You How to Become a Local Celebrity and the "Go-To" Person  in Your Niche for 2023 And Beyond
If You Are Looking To…

Launch a New Business or Grow Your Existing One

Become Known in a Brand New Field or Niche Market
Connect With the "Movers and Shakers" in Your City or Town
Then…
My Popular and Effective "Become a Local Celebrity" Training is For You!

I started doing this in 2006, so you will be learning the exact strategies, techniques, and methods that work. In fact, you'll have fun in your community as you build your business in a "behind the scenes" way.

I'll be teaching you everything I know, based on more than a decade of experience, including:
What to Do Before You Connect With Others in Your Community

How to Know Which People are the Key Influencers in Your City

Where to Spend Time to Get in Front of the People You Want to Know

What to Say When You Find Yourself Face to Face with a Local Influencer

What I Learned By Serving Drinks at a Local Fundraiser…You'll Want to Know This, I Promise
During the Three Modules of the Become a Local Celebrity Training I'll Share…
What Works and What Doesn't When It Comes to Connecting with Local Thought Leaders and Influencers

How to Make it a Win-Win-Win for Everyone in Your Community

How to Achieve Success By Allowing Others to Take Most of the Credit

You May Have Already Heard About This Strategy From Me!

In 2010 I first blogged about becoming a local celebrity and caught the attention of movers, shakers, and influencers.
During 2012 I began teaching these effective and proven strategies at my live events and workshops, as well as in two of my bestselling books.
Throughout 2020 and well into 2023 I depended upon these strategies to move profitably through the pandemic.
I've now written about my "Become a Local Celebrity" concept in four of my bestselling books…
During 2023 I have expanded my efforts in simple ways that take just a fraction of the time and have a much more powerful impact!

Isn't It Time You Began Incorporating These Proven Strategies And Methods Into Your Own Life And Business For Maximum Credibility, Visibility, And Profitability?
The Answer Is "Yes, It Is!"

I Was the "Accidental Celebrity"

It was not my goal or intention to become so well known in my local community. But once it happened I saw that this was the best possible thing that could have occurred in regards to my business. What I first learned by accident I soon began to use intentionally to grow my business. And it continues to be both fun and financially rewarding! My promise to you is to not waste any of your valuable and precious time with training that is not absolutely crucial to your success, so you know you will be on the fast track to becoming a local celebrity in your city or town.
Based on what I teach in this program you will be working with intention and not just by trial and error. And wait until you experience your local celebrity status in a way that grows your business – you'll know this was right for you!
And Then I Began Living in Two Cities Simultaneously!

In 2012 I decided to establish a second home in Santa Barbara, a city eighty miles away from my primary residence in the desert community of Santa Clarita, California. I assumed that dividing my time between two cities would cause me to not be known very well in either any longer, but I was pleasantly surprised when I intentionally set out to be a local celebrity in my new city and found it easier than ever to achieve what I now refer to as "Dual City Celebrity Status"!
What I learned and implemented accidentally in my first city was now something I could refine in the new city. And the results were outstanding; it took much less time and effort for me to achieve similar goals because now I knew what I was doing and made good use of my skills. And everyone benefited when I shared my knowledge and expertise locally.
Right now you may be thinking, I don't know anyone in my city who could help me to grow my business. I wouldn't even know where to begin to find these people. And even if I found someone, why would they want to help me? I can help you with all of this, and that's exactly what you and I will explore and solve during this intensive and exclusive training.
The Reality…
If you don't know the right people in your community, you might as well forget about building your business and getting your message out to others with their help.
The Problem…You believe that you already have to know these people, and that they are difficult to find, get to know, and receive help from when it comes to your business and your message.
The Solution…My Become a Local Celebrity training program will turn you into an effective and unstoppable communicator in your local community. People will start seeking you out to share your message with others and you will be in high demand as your business grows. I'll teach you how to get started right away and turn your dreams and goals for your business into your reality.
We'll Start From Where You Are Right Now

During the Become a Local Celebrity training program you'll examine where you are right now in your local community and we will build together from there. It all begins with:

Evaluating Your Current Status As An Entrepreneur or Business Owner in Your City or Town
Planning an Effective Strategy for Jump Starting Your Status With Others
Taking the Right Steps Each Week to Promote Yourself and Your Message
Leveraging Your Status Through Local Events, Social Media, and More
This is how life and business work as well. When you learn the basics of networking and communicating with others who want to see you succeed, the rest of your business will come together easily. I may be slightly oversimplifying here, but my motto to "Keep It Simple" truly is the path to great success for you as you build and grow your business by starting out in your local community.
If You Want People in Your City or Town to Know Your Name and  Associate You With Your Niche Topic, This Is Your Opportunity to Make That Happen…And You Might Be Invited to China!
In the fall of 2012 I received a call from my local Chamber of Commerce. They had been given my name by someone who felt that I was a local business owner making a difference in my community. They invited me to join them on a three week trip to China to participate with other community leaders.
I was not a member of the Chamber of Commerce, my online business had begun less than two years previously, and I didn't even know that any local business owners knew my name. Yes, I was invited on this trip, will all expenses paid! The only thing I paid for was my Visa (about $150) and my spending money.
My trip to China was life changing and connected me even further with people in my city, many of whom were anxious to share what I was doing with their own groups and organizations. While several of us were enjoying an afternoon longboat cruise down the Yangtze River, I was asked and joyfully agreed to make a presentation to a group of more than two hundred small business owners upon our return home.
This all came about because I had become a local celebrity.
---
Please Join Me and Get Started Today!
---
The Modules In Become a Local Celebrity Include…
Module 1 – Getting Started as a Local Celebrity

What is local celebrity status and why is it important?
Why must I meet people in my community if I work online?
How will I be helpful to others during this process?
How do I set the wheels in motion to be a local celebrity?
When to submit your first press release about a local event
What about other local business owners and entrepreneurs?
What are the three key factors in becoming a local celebrity?
Module 2 – Going In for Your Closeup

How to be seen as a local celebrity from day one
What to say when you meet local business owners
Why sharing your origin story is so important to this process
When to ask others in your community to recommend you
Why local book signings are coming back into vogue
How to strategically sell your services in your local community
Finding the right corporate connections in your city or town
Module 3 – Advanced Strategies for Local Celebrities

Monetizing your local celebrity status, locally and globally
How to avoid local situations that will not serve you
Where to spend time in your community for best results
Using my "local press release" strategy for global results
Why local connections will catapult you to international success
Successfully going after corporate sponsors in your community
How to partner with local companies/corporations for mutual rewards
When to step back and let others start coming to you
Module 4 – BONUS Module (When Is It Necessary to "Re-Engage" With Your Community?)

What to do when you've been away or otherwise engaged
How to find the current "movers and shakers" and re-ignite your celebrity status
Why it's so much easier the second time around
When to move into the spotlight as a local celebrity again
How to monetize your renewed celebrity status!
Private Mentoring Is a Crucial Part of Your Program

In order for you to have the best possible experience in your quest to become a local celebrity, I have included three one-on-one sessions with me as a part of your training.
Our first call will be held after you have gone through Modules 1 and 2. That way you will have the foundation for what this program is all about and be ready to discuss the path you wish to take as you move forward.
The second time we talk we will map out a more in depth course of action for you as you begin to have success as a local celebrity in the city where you live.
Our third call will be the time to discuss your next steps, which may include national or international public speaking, writing and publishing your first or next book, and joint ventures (JVs) with me or someone else as you create a lifestyle business that suits your goals.
Mentoring is a magical process where you are able to Mastermind with someone who has fourteen years of experience in the online business world.
New Live Sessions Coming in the Fall of 2023!



Module 5 – BONUS Module – (Help Family Members and Friends Become Local Celebrities)

Module 6 – BONUS Module (Next Steps and Additional Income Opportunities)

---
YOUR BONUSES
Your choice of one of my products or courses to enhance your "local celebrity" status
An Opportunity To Have Me Rewrite Your First/Next Press Release
Recommendations For Technical Assistance And Other Outsourcers From My Personal Rolodex
---
  Now Available as Home Study!
Please Join Now And Become a Local Celebrity to Grow Your Business.
As With All of My Courses, You Will Have Two Years of Full Access to All Sessions, Replays, Handouts, and Other Materials.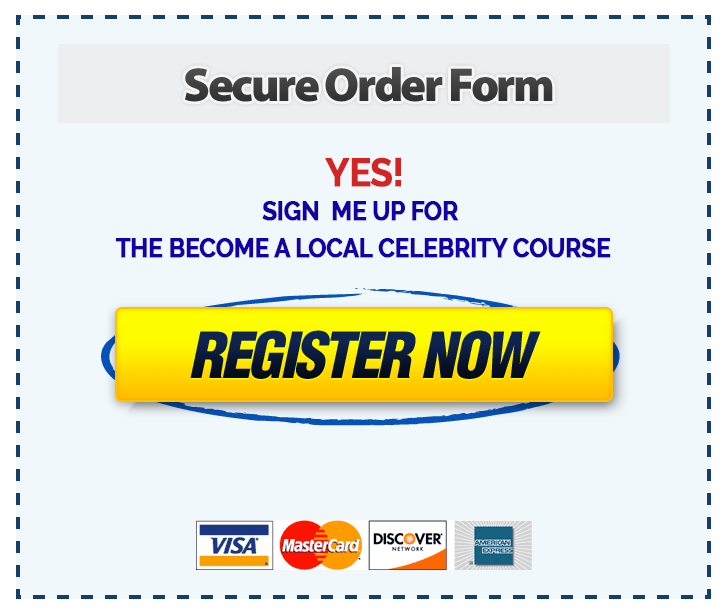 Have a Coupon Code? Click to Register Now, and Then Enter the Code on the Next Page. Be Sure to Click to "Validate" the Code and See the Price Magically Drop… Before You Check Out!
Now is the time for you to become a "Local Celebrity" and reap the benefits of having others in your city or town know who you are and what you do to help you jump start your business. I promise to share everything I know on this topic so you will enjoy the success you deserve.

P.S. If you're ready to incorporate these proven strategies and methods taught in this training program into your life then you are ready to reap the massive benefits of becoming a local celebrity!

What Others Have To Say About Me…
It's your integrity, your servant heart, and quality courses that have kept me as a customer for so many years. Not too long after I found you, I ordered a course, twice. Quietly, behind the scenes, you credited my account. How did I find out? I noticed it on my statement. That act revealed that you were a woman of integrity; one I wanted to continue to do business with and to learn from.~ Joyce Heiser
Connie's online courses have enabled me to learn from home and start a business that runs entirely from the internet. This allows me to supplement my income and next year I am on track to replace my income and take a very early retirement from my job. You can do this too if you stick with Connie. ~ Michael Shiffrin
If I didn't already know you, I would want to. ~ Faylee James
Just to say how much I enjoy your training courses, and how helpful I find them. ​I appreciate the effort and personal touches you put into it, too.​ ~ Alex Rowan
I'm a fan. I have two of your books. Thanks for being a great teacher and writer. ~ Tony Marino
Connie has a gift for communicating large concepts in ways that make communication possible. She speaks a kind of language that is engaging and easy to comprehend, and this is what students like. I've been teaching online and offline courses for a number of years. I took Connie's program because I wanted to see someone else's system. I like Connie's methodology, and I'm glad I took her course. Thanks, Connie. You're a wonderful teacher. ~ Marilyn Gordon
Disclaimers and Legal Rights | Affiliate/Earnings Disclaimer | Terms of Use | Privacy Policy